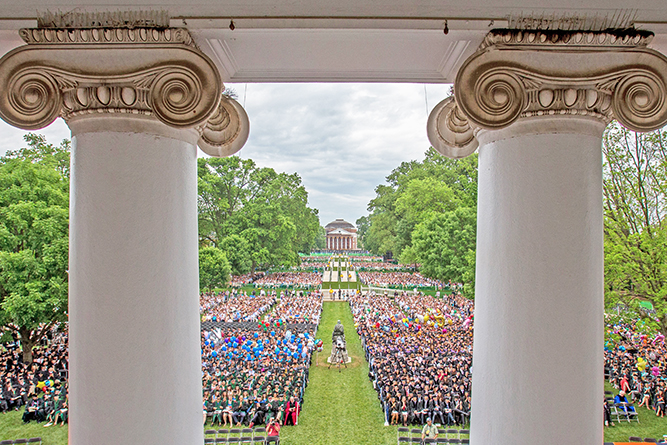 Conferences@UVA plans to offer on-grounds accommodations for Finals Weekend 2023 in our first-year dorms.
However, we are not yet accepting reservations. Our reservations portal is expected to open later in Fall 2022.
Please check back on this web page for further updates.
Important Information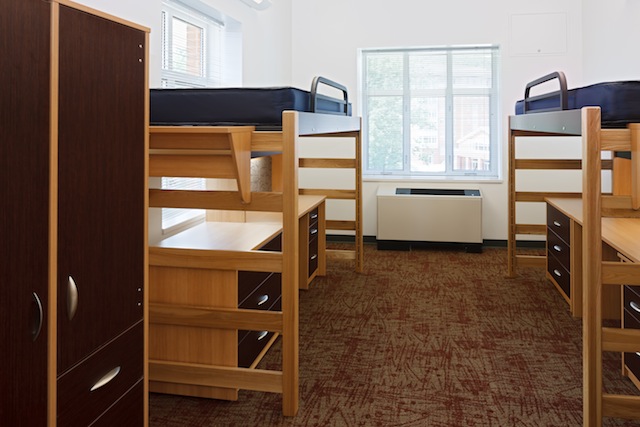 2023 pricing TBD
You must provide your graduating student's UVA computing ID at the time you make your reservation
Maximum of three (3) rooms per reservation
Beds are lofted as shown
Linens provided include:

Bed pillow and blanket
Compostable sheets

No bath towels, soap, or other toiletries provided (guests must bring their own)
Communal hall bathrooms
A/C and WiFi available
20-minute walk to graduation ceremonies
Parking available at stadium
Accommodations
Accommodations are hall-style, double-occupancy, air-conditioned student dorm rooms located in the Alderman Road Residence Area. There are shared communal bathrooms on each floor, and a compostable linen packet, blanket, and pillow will be provided. Guests must bring their own bath towels and toiletries.
All rooms are hall-style with two lofted twin XL beds, two desks, two dressers, and two wardrobes. It is important to note that this is not a hotel, but an economical, no-frills lodging option within a 20-minute walk to the Lawn. The lofted beds are not ideal for everyone, so please consider this as you reserve these accommodations for your guests, as furniture cannot be moved. Bath towels, soap, ironing boards, hangers, and other hotel-style amenities and toiletries such as shampoo and hairdryers are not provided.
Should any member of your party require disability-related or other medical accommodations, please refer to Disability-Related and Medical Accommodations listed below.
Disability-Related and Medical Accommodations
While all of our residence halls are accessible, dorm room housing is not necessarily ideal for everyone:
Bathrooms are communal by gender on the hallway.
Parking is not adjacent to the building.
Some may find the lofted bed to be a challenge.
Please consider these factors as you reserve these accommodations for your guests. 
Should any member of your party require a special disability-related or medical accommodation during your stay, we recommend that you contact our office before you make your reservation to learn more about the housing accommodations. Please call us at 434.924.4479 or email conferences@virginia.edu prior to booking your reservation to discuss your specific needs and what options are available.
Also, while booking your reservation, please be sure to fill out the "special requests" box with as many details as possible. Information to share includes, but is not limited to, wheelchair access, bathroom accessibility, or other special requests.
ADA parking spaces are available, but limited, near the dorms. Most accessible guest parking is not immediately adjacent to the accessible entrances of the buildings. It takes approximately 20 minutes to walk from the Alderman Road Residence Area to the Lawn, where graduation ceremonies take place. You will not be able to drive your car to the ceremony site. Parking and Transportation will run accessible shuttles to the Lawn for guests who cannot make the walk, but a walk is also required to get from the residence halls to the shuttle bus stop.
Please see the University's accessibility map for the Alderman Road area. If you have questions regarding accommodations, please email us at conferences@virginia.edu.
Parking
Free parking for dorm guests will be available near Scott Stadium, about a 10-minute walk to the Alderman Road dorms.
Limited ADA parking is available near the residence halls on a first-come, first-served basis. Also see the University's accessibility map for the Alderman Road area.