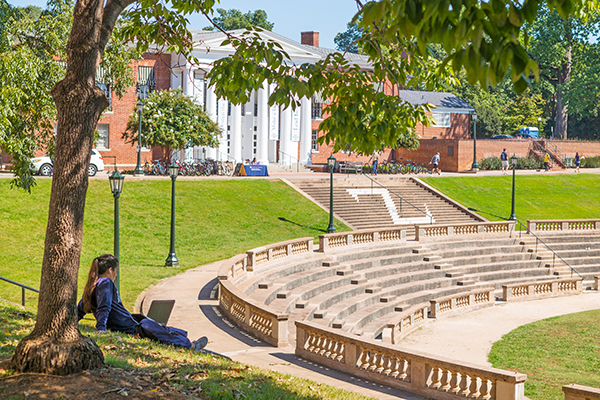 In accordance with Governor Northam's Executive Order on March 30, all in-person summer programs have been cancelled through June 30, 2020. Therefore, Summer Intern Housing will not be available at this time.

By June 1, a decision will be made regarding in-person programs occurring after July 1, 2020.
To be eligible for this housing, students must be enrolled at an institution of higher education, and proof of internship must be provided. Please note that you must be at least 18 years of age to live on Grounds in summer short-term housing.
Accommodations
Copeley Apartments
Guests stay in air-conditioned, apartment-style accommodations in the Copeley Apartments residence area. Each guest will have their own single bedroom with a full-size bed, desk, and wardrobe. Guest may be assigned to share a two-bedroom apartment with another intern of the same gender. Each apartment contains one and a half bathrooms, a living room, and a kitchen with stove, refrigerator, and sink. All apartments are furnished with a sofa, two arm chairs, a coffee table, two end tables with lamps, and a dining table with chairs.
Please note that bedrooms are not equipped with hangers, irons, ironing boards, hair dryers, or lamps (overhead lighting only). Guests are responsible for supplying their own bed linens, pillows, towels, and personal toiletry items including shampoo, soap, etc. In addition, the apartments are not equipped with cooking supplies. Guests are responsible for supplying their own pots, pans, plates, and utensils.
Laundry
Laundry facilities are available in the residence area for guests' use during the summer. Laundry facilities operate by card reader, and are not coin-operated. Individuals with a University-issued ID card may place Cavalier Advantage funds on their ID using one of the cash deposit machines on Grounds. Guests without a University ID may place funds on their Conferences@UVA-issued room access card. Up to $20 in laundry funds may be added. Unused funds are not refundable, but can be used in vending machines or at the UVA Bookstore. A list of locations where you may obtain a card is available at the Cavalier Advantage website.
Meal Plans and Parking
Conferences@UVA does not arrange dining, meal plans, or parking for those staying in our summer intern housing. Please contact Dining Services for meal rates and dates of operation. Parking permits for Copeley are available through Parking and Transportation (434.924.7231).
Reservations
Housing is offered at $43.00 per person, per night. All reservations must be made online with a valid credit card, using the 2020 Housing Reservation link below. Full payment is due upon registration.
If you require disability-related or medical accommodations, please contact Conferences@UVA directly at 434.924.4479 or conferences@virginia.edu.
PLEASE NOTE: Proof of internship or participation in a UVA-affiliated program is required. Please submit your proof via email to conferences@virginia.edu. Proof may be documentation from the university or college, employer, etc. in the form of an email, a communication on letterhead, or scanned documentation. In the event that your internship cannot be verified, the housing reservation will be cancelled, and no bed will be reserved.
Changes and Cancellations
You must use the Change and Cancellation Form for Individual Housing to submit any changes or to cancel your reservation. Be sure to select "Summer Intern Housing" in the Conference Name dropdown.
Cancellation fees will apply:
If we receive your cancellation form seven or more days prior to your scheduled check-in date you will receive a refund, less a $50.00 cancellation fee.
If we receive the cancellation form less than one week prior to your scheduled check-in date you will receive a refund, less a $50.00 cancellation fee and a charge equal to seven nights of housing.