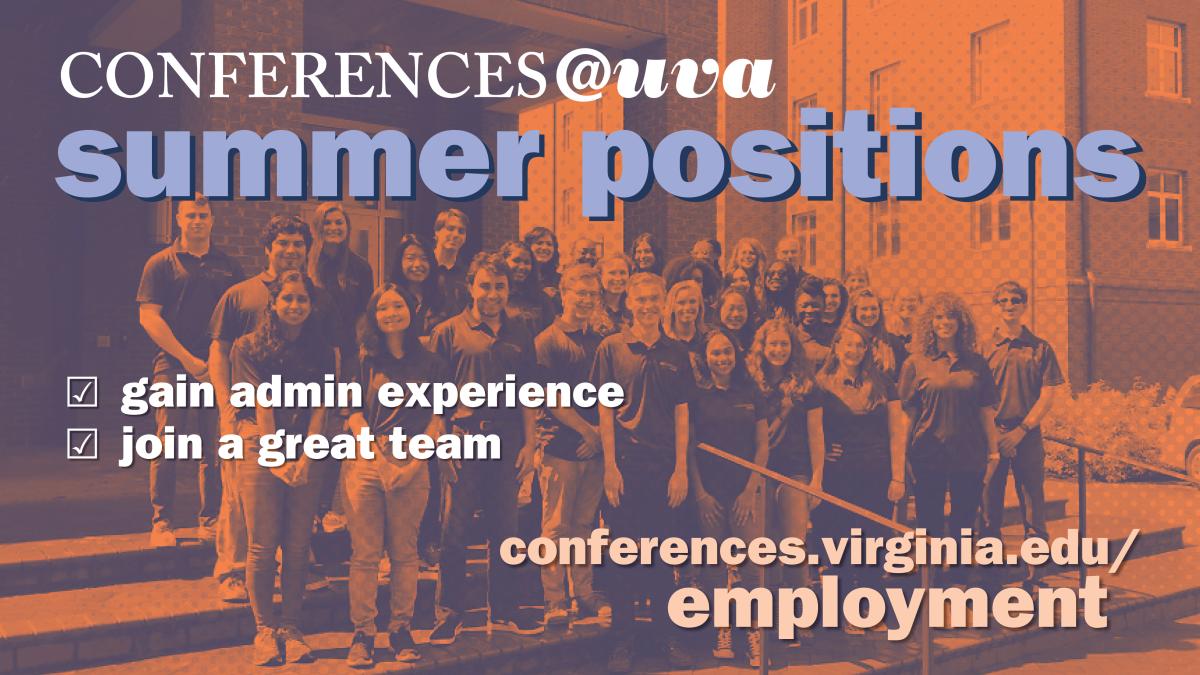 Join our Hoospitality Team
Student Staff
 
Conference Operations Supervisor
 
Conferences@UVA is seeking up energetic and organized UVA undergraduates to join our team as Conference Operations Supervisors (OS). During the summer months, UVA hosts thousands of visitors in our residence halls. OSs will assist with planning for the upcoming 2024 summer conference season and serve as conference experts for an assigned group of summer conference programs, providing exceptional customer service and tasks including client communications, coordinating event logistics, and information management.
OSs will also assist in the recruitment, hiring, and training of our summer student team, which they will lead, motivate, and supervise throughout the summer. This position is not strictly an office role, but will require time spent outside in our residential areas.
Hours for the position wil average 8-10 hours per week during the Spring 2024 semester, beginning on Monday, January 24, 2024. From Saturday, May 11-Friday August 9, 2024, hours will average between 25-30 per week during the summer. OSs must be able to commit to a flexible work schedule that incudes some weekends, evenings, and possible holidays; and to participate in mandatory training on Saturday, May 11 and Monday, May 13, 2024.
 
Responsibilities
Information Management - 25%
Manage information in StarRez housing software (training will be provided), ensuring accurate guest data entry and continued maintenance of accurate client records for billing purposes.
Communicate with clients to ensure timely receipt of rosters, guarantees and other documentation.
Work with service partners to ensure dining needs and special requests are met, and facilities issues are addressed.
Operations and Supervision - 55%
Supervise conference staff in preparing for conference group arrivals and departures.
Obtain and print rosters, labels, signage, and other program-related materials.
Manage linen inventory and lead and participate in its distribution as events require it.
Schedule, oversee, and participate in building inspections prior to and post conferences.
Organize staff transportation to and from check-in/out locations.
Coach, mentor, motivate, and support Conference Assistants in daily activities through example by active participation.
Participate in the summer staff hiring process by recruiting candidates, reviewing applications, interviewing and selection. Assist in the development and delivery of team member training.
Understand, comply with, and uphold University and Conferences@UVA operating procedures, policies, and philosophies.
Participate in regular planning meetings with the leadership team and full team.
Other duties as assigned.
Ensure check-in/out attendance records are properly and accurately documented into StarRez.
Customer Service - 20%
Serve as a conference expert for an assigned number of summer conference programs, working in tandem with professional staff to provide exceptional customer service to clients and guests, and ensuring proper record keeping of bed-nights and services for billing purposes.
Address client issues and concerns, and problem-solving as needed.
Work with assigned clients to obtain event details and ensure the successful execution of their programs through clear communication and delegation to team members.
All interested applicants are encouraged to apply to posting #R0054112 at uva.wd1.myworkdayjobs.com/UVAJobs. This posting also contains additional information about the position.
---
The University of Virginia does not discriminate on the basis of age, color, disability, gender identity or expression, marital status (which includes active duty service members, reserve service members, and dependents), national or ethnic origin, political affiliation, pregnancy (including childbirth and related conditions), race, religion, sex, sexual orientation, veteran status, and family or genetic information, in its programs and activities. See the complete Notice of Non-Discrimination and Equal Opportunity for more information.