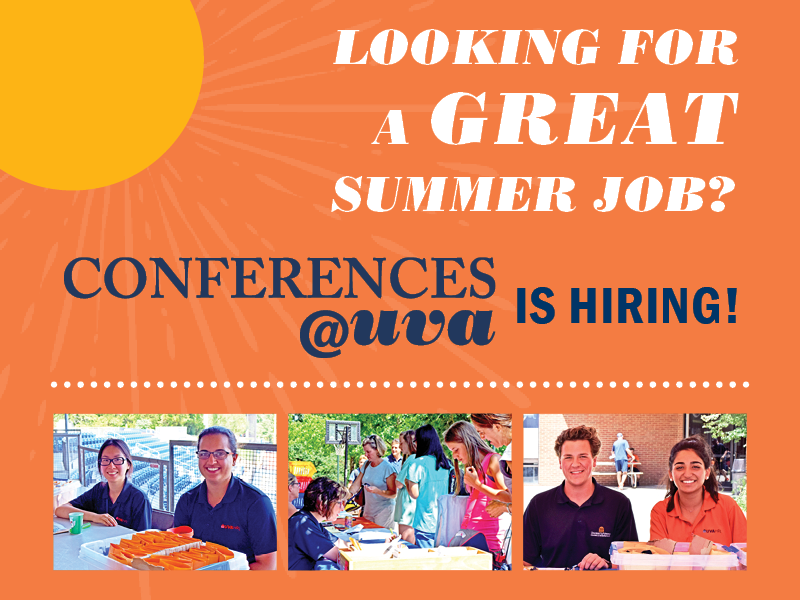 Our operation would not be successful without a team of dedicated and hard-working student staffers. We invest in the professional development of our student employees and foster a work environment where collaboration and self-governance is encouraged, and diversity is celebrated.
We are currently hiring for the following staff positions for our Summer 2019 conference season:
Conference Residential Assistants (Job #2179093)
Conference Assistants (Job #2179031)
We're looking for students to serve as conference experts for an assigned number of conference groups and performs a wide variety of customer service tasks throughout the summer as part of the overall conferences team. Conference Residental Assistants (CRAs) will also serve an improtant role as an in-residence assistant to mtriculating first-year students who are housed on-Grounds as participants in summer academic programs.
Employment dates: May 11 – August 11, 2019.
Read the full job descriptions:
What is the deadline?
Applications and resumes are being accepted now through March 1, 2019 for Assistant positions.
How do I apply?
Apply Through Handshake using the position number above.
Please submit a resume as well as your responses to all three of these questions, in short paragraph format (300 word max):
Tell us a bit about yourself. What makes you interested in working with

Conferences@

UVA this summer?
What prior experience, skills, or qualities do you feel would make you a good fit for our team?
What is something interesting about you that is not reflected on your resume?
---
The University of Virginia does not discriminate on the basis of age, color, disability, gender identity, marital status, national or ethnic origin, political affiliation, race, religion, sex (including pregnancy), sexual orientation, veteran status, and family and genetic information, in its programs and activities. See the complete Notice of Non-Discrimination and Equal Opportunity for more information.