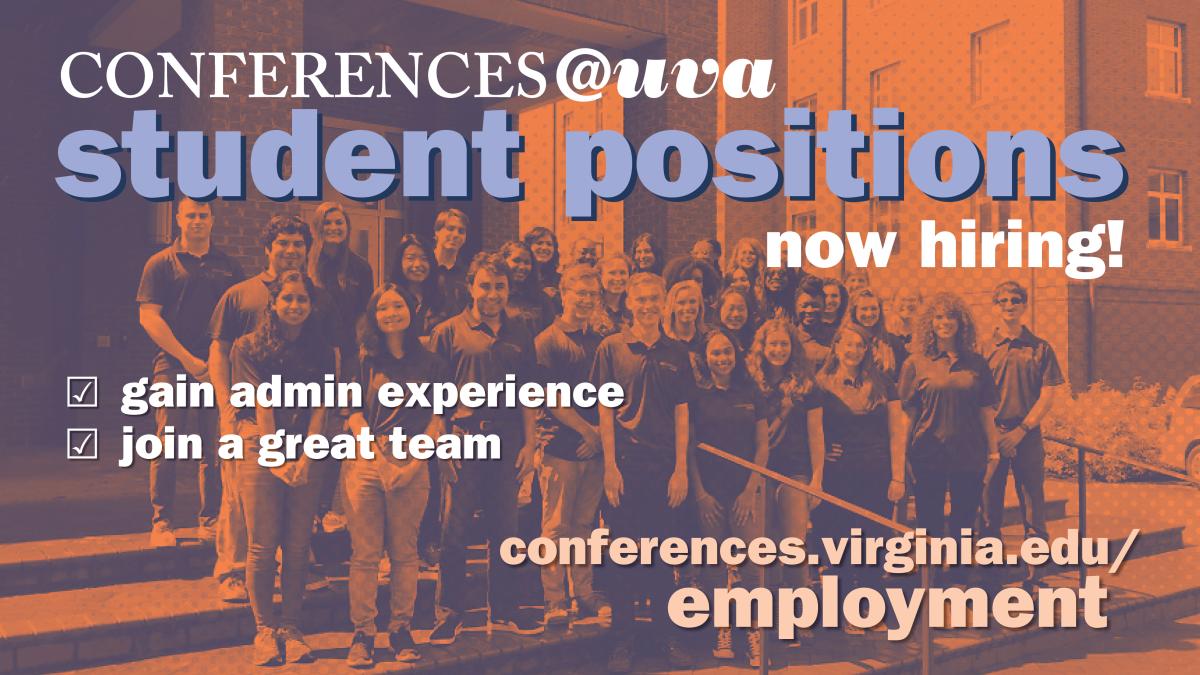 Join our Hoospitality Team
Student Staff
Conference Operations Supervisor
Conferences@UVA is seeking up to three energetic and organized UVA undergraduates to join our team as Conference Operations Supervisors (OS). During the summer months, UVA hosts thousands of visitors in our residence halls. OSs will assist with planning for the upcoming 2023 summer conference season and help supervise a team of student staff in day-to-day operations for approximately 100 visiting summer residential programs, coordinating event logistics, information management, and record-keeping, OSs will also assist in the recruitment, hiring, and training of our summer student team.
Hours for the position will be approximately 10 hours per week during the Spring 2022 semester and 30+ hours per week during the summer, with opportunities to work more shifts on busier days. OSs must be able to commit to Conferences@UVA spring and summer dates, and participate in mandatory training on Saturday, May 13 and Monday, May 15, 2023.
Responsibilities
Conference Customer Service - 20%
Serve as a client liaison ("conference expert") for an assigned group of conference clients, reviewing the program's contract, and communicating with the client as needed to ensure that guarantees, rosters, and other necessary documentation and special requests are received and distributed as needed to service partners and filed in a timely manner.
Coordinate with service partners to ensure all materials and services (e.g. parking permits, commuter dining cards) are prepared in advance of a group's arrival.
Oversee preparation of all check-in/check-out materials for incoming programs and ensure building readiness (key packing, rosters, inspections, necessary signage, room inspections, etc).
Work with the conference team to provide exceptional customer service to clients and guests before they arrive, during their stay, and at check-out; ensuring proper record keeping of bed nights, lost keys and special requests for billing purposes.
Ensure check-in/out attendance records are properly and accurately documented into StarRez.
Supervision - 30%
Assist in recruiting, interviewing, evaluating, hiring, and training of Operations Assistants.
Lead staff meetings and teambuilding activities.
Oversee operation assistants in daily conference operations, providing support and assistance as need.
Maintain student staff accountability and provide constructive feedback as necessary.
Conference Operational Duties – 50%
Support professional staff in the daily operational tasks required execute a successful conference season. This includes, but is not limited to:

Answering phones and replying to emails from guests and conference clients requesting information.
Using StarRez to manage group rosters, key packing labels, and other relevant materials.
Ensuring that keys, access cards, dining cards and other check-in materials and forms are properly packed before group arrival and post-inventoried after the group's departure.
Checking groups in and out of StarRez Scheduling and leading room inspections as needed prior to and post conferences.
Coordinating the distribution and collection of linens/pillows to rooms for events requiring this service.
Creating and hanging building signage as needed.
Assisting with bed-lowering as needed.
Assisting in re-making and documenting lost or damaged room access cards, and troubleshooting card access problems using the CS Gold access management system.
Maintaining accurate records of in/out dates, lost keys, special requests and damages that occur during each program's stay for billing purposes.
Being familiar with and abide by University and Conferences@UVA operating procedures, policies, and philosophies.
Other duties as assigned.
All interested applicants are encouraged to apply to posting #R0042638 at uva.wd1.myworkdayjobs.com/UVAJobs. This posting also contains additional information about the position.
---
The University of Virginia does not discriminate on the basis of age, color, disability, gender identity or expression, marital status (which includes active duty service members, reserve service members, and dependents), national or ethnic origin, political affiliation, pregnancy (including childbirth and related conditions), race, religion, sex, sexual orientation, veteran status, and family or genetic information, in its programs and activities. See the complete Notice of Non-Discrimination and Equal Opportunity for more information.