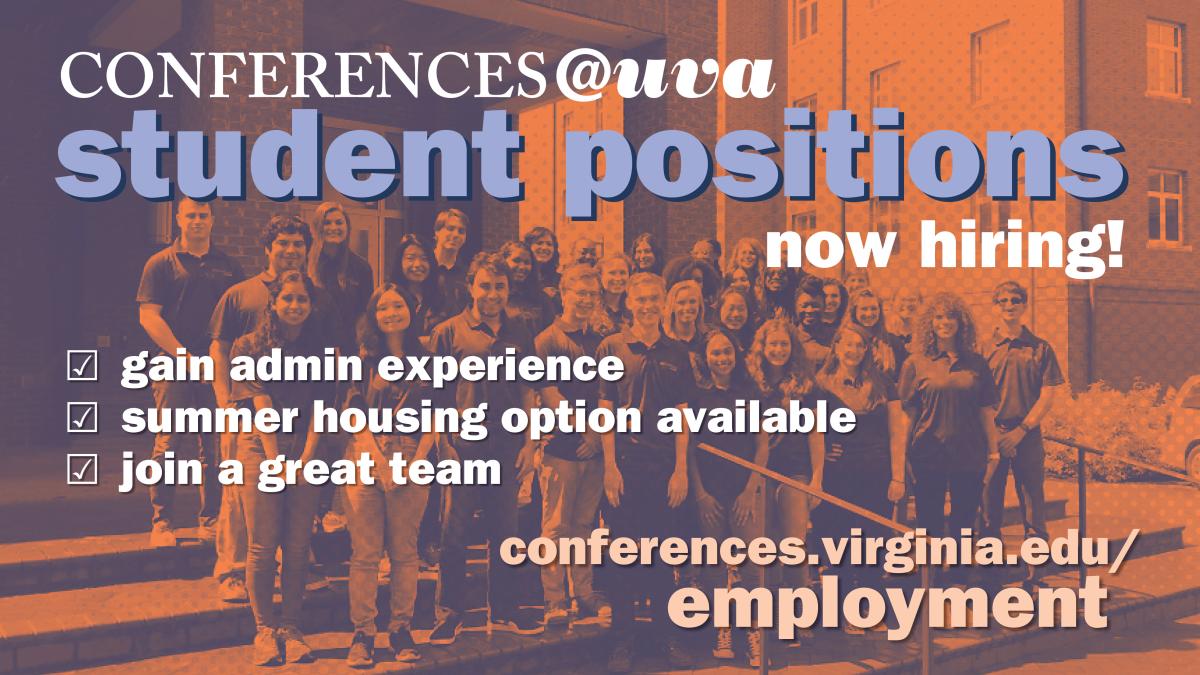 Join our Hoospitality Team
Student Staff
Conference Assistant
Conferences@UVA is seeking energetic and organized UVA undergraduates to join our team as Conference Assistants (CAs).
During the summer months, UVA hosts thousands of visitors in our residence halls. CAs will play a vital role in the success the 2023 summer conference season, assisting professional staff by providing front-line customer service and back-of-house operational assistance. CAs perform a wide variety of daily tasks for visiting programs, including preparation and inventory of room keys, creation of check-in rosters and welcome packages, conducting room inspections, answering phone calls and emails, record-keeping, and other guest-related duties.
In addition to pay, CAs have the option of free summer housing on-Grounds through Saturday, August 5, with access to kitchen and laundry facilities.
This position will average around 20-25 working hours per week, with opportunities to work more shifts on busier days. Dates of summer employment are May 13-August 11, 2023, and all CAs are expected to participate in mandatory training on Saturday, May 13 and Monday, May 15, 2023.
Responsibilities
Assist in daily operational tasks necessary to operate successful conference programs including, but not limited to:

Ensuring keys, access cards, and dining cards are properly labeled and packed before a program's arrival and inventoried after their departure.
Assembling complete welcome and check-in materials for incoming programs.
Assisting program representatives with onsite check-ins and check-outs.
Welcoming and assisting visitors with finding rooms and moving belongings in and out of residence areas.
Checking guests in and out of StarRez after arrival/departure.
Conducting room inspections both before and after a program has been in residence.
Distributing and collecting linens for certain programs.
Distributing and hanging/removing signage in buildings as needed.
Assisting with bed-lowering if requested.
Participating in transportation training and providing transportation (in state-owned vehicle).
Troubleshooting door access issues.

Assist at the front desk by answering phone calls and emails, and attending to walk-in guests.
Work in the field in residence hall areas as needed to distribute and place linens for certain groups, hang or remove signage, inspect spaces, and assist programs with guest move-in/out and special requests.
During Graduation and Reunions Weekends and other special programs, staff guest check-ins and check-outs and provide assistance as needed to guests.
Provide excellent customer service to program representatives and visiting guests.
Ensure proper record keeping of bed-nights, lost keys, and special services for program billing purposes.
Report incidents and emergencies to supervisors and emergency responders when necessary.
Other duties as assigned.
Qualifications
Must be a full-time UVA undergraduate student in good standing throughout employment.
Ability to work as a member of a team.
Strong customer service skills.
Self-motivated, with capacity for self-directed work.
Strong organizational, prioritization, and problem-solving abilities.
Flexible, positive, adaptable, and able to work in a fast-paced environment.
Ability to use Microsoft Office Suite programs as well as learn new software.
Will be required to lift up to 25 pounds.
A valid U.S. driver's license with a positive point balance is preferred.
Prior work experience is preferred, but not required.
All interested applicants are encouraged to apply to posting #R0044892 at uva.wd1.myworkdayjobs.com by March 31, 2023, although the job will remain open until all positions are filled. This posting also contains additional information about the position.
---
The University of Virginia does not discriminate on the basis of age, color, disability, gender identity or expression, marital status (which includes active duty service members, reserve service members, and dependents), national or ethnic origin, political affiliation, pregnancy (including childbirth and related conditions), race, religion, sex, sexual orientation, veteran status, and family or genetic information, in its programs and activities. See the complete Notice of Non-Discrimination and Equal Opportunity for more information.