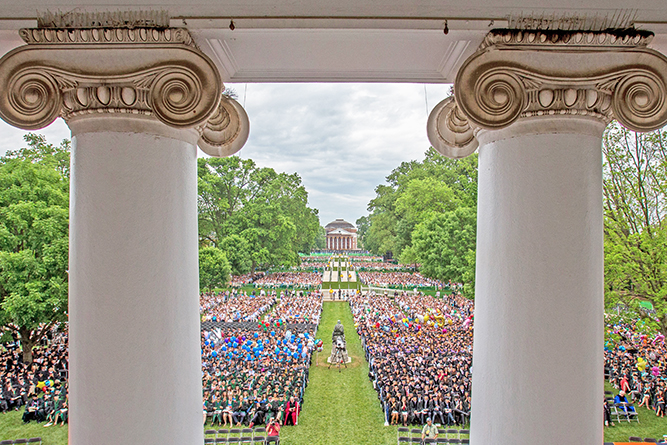 Stay With Us for Graduation
The University is pleased to offer on-Grounds accommodations for guests attending Final Exercises 2018! Please note that availability is limited.
Accommodations
For those looking for an affordable alternative to a hotel with no minimum stay requirement, we provide student-style accommodations in air-conditioned dorm rooms located in the Alderman Road Residence Area. 
This is not a hotel, but an economical lodging option within a 15-minute walk to the Lawn. All rooms are hall-style with two single beds, two desks, two dressers, and two wardrobes. The beds are lofted as seen in the image below, and should remain lofted. Should any member of your party require disability-related or medical accommodation that would prevent them from using a lofted bed, please contact our office at conferenceservices@virginia.edu or 434.924.4479.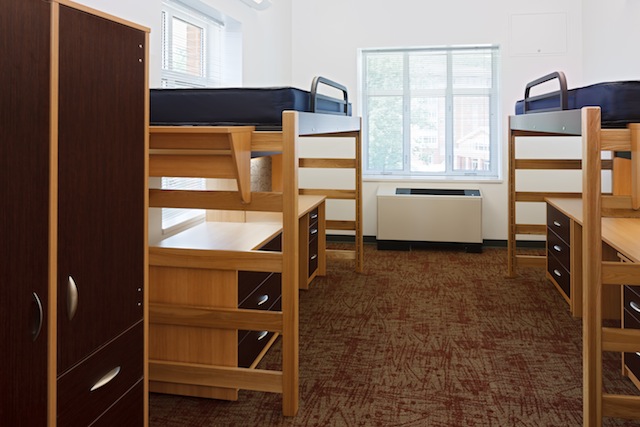 The residence halls feature shared common areas and bathrooms. Each guest will receive a linen package that includes a bed pillow, pillow case, two sheets, a bedspread, two bath towels, a washcloth, and a bath mat.
It should be noted that the rooms do NOT include hangers, irons or ironing boards, hair dryers, bedside lamps, toiletry items, or other amenities. Bathrooms are communal and shared with other guests on the hallway.
In order to provide the maximum room availability, all guests in the same party will be housed in as few rooms as possible, based on double occupancy (i.e. a party of five or a party of six would each be assigned to three rooms). Only members of the same party will be assigned to the same room.