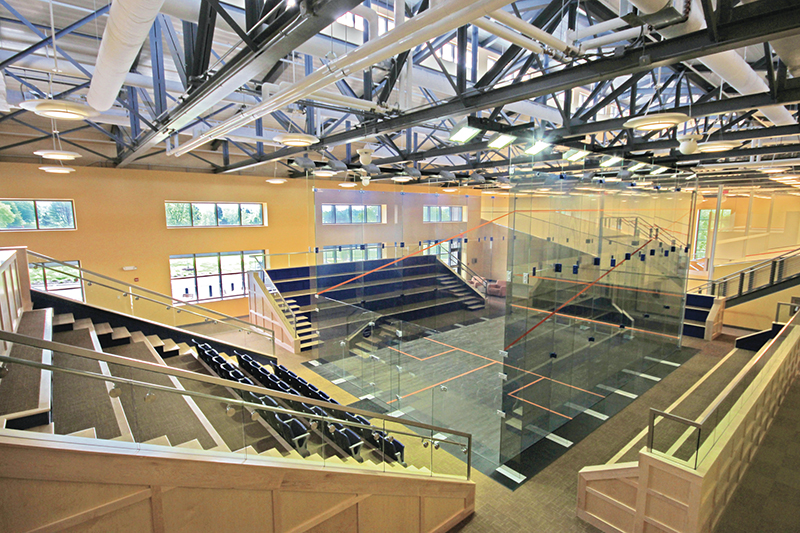 We are happy to offer on-Grounds housing for the 2018 World Masters Squash Championship!
 
Space is limited. All reservations, cancellations, and changes to the number of nights reserved must be made no later than July 6, 2018 to avoid a penalty. A cancellation fee of one-half the nightly room rate ($22.64) will be applied for each night cancelled after July 6, 2018.  Cancellations after July 20, 2018 are not eligible for a refund.
Accommodations
For those looking to economize while visiting Charlottesville, we are providing affordable student-style accommodations in air-conditioned dorm rooms located in the Alderman Road Residence Area. 
This is not a hotel, but a very affordable, no-frills option for those on a tight budget. All rooms are hall-style and double occupancy, with two lofted single beds, two desks, two dressers, and two wardrobes. Each guest will receive a linen package that includes a bed pillow, pillow case, two sheets, a bedspread, two bath towels, a washcloth, and a bath mat. A one-time, non-negotiable fee of $21.06 per person will be charged for this package.
It should be noted that the rooms do NOT include hangers, irons, hair dryers, bedside lamps, or toiletry items.  Bathrooms are communal and shared with other guests on the hallway.
In order to provide the maximum room availability, all guests in the same party will be housed in as few rooms as possible, based on double occupancy (i.e. a party of five or a party of six would each be assigned to three rooms). Only members of the same party will be assigned to the same room.
Pricing and Availability
Rooms are offered at a tax-included rate of $45.28 per person, per night. This price includes a buffet breakfast at Observatory Hill Dining Hall, which is a 2-3 minute walk from the residence halls. A non-negotiable, one-time, tax-included fee of $21.06 for each person in the party will be added to cover the provision of the linen packet. Parking is not included, but is available for purchase at check-in for $4.21 per day.
Reservations are available beginning September 5, 2017 on a first-come, first-served basis. Rooms may be booked beginning Friday, July 27, 2018 (check-in after 2:00 p.m.) and all guests must check out no later than 11:00 a.m. on Sunday, August 5, 2018.
Make Your Reservation
Reservations are available beginning September 5, 2017 on a first-come, first-served basis. Please click the Book Your Reservation button at the bottom of the page to begin making your reservation.
All reservations must be made online with a valid credit card. Payment is due in full when you make your reservation. Be sure to include the names of all members in your party when making your reservation. Registration will close no later than Friday, July 6, 2018 at 5:00 p.m. Registration may close sooner, pending space availability.
Cancellations must be submitted using the 2018 World Masters Squash Change and Cancellation Form. Download this PDF to your computer in order to enter and save your information. Please see the form for cancellation policies and fees.
Parking
Free parking is not available. Temporary permits for parking in the nearby Scott Stadium parking lot are available for purchase at check-in at a tax-included rate of $4.21 per day. 
Limited ADA parking is available near the residence halls on a first-come, first-served basis. Also see the University's accessibility map for the Alderman Road area.